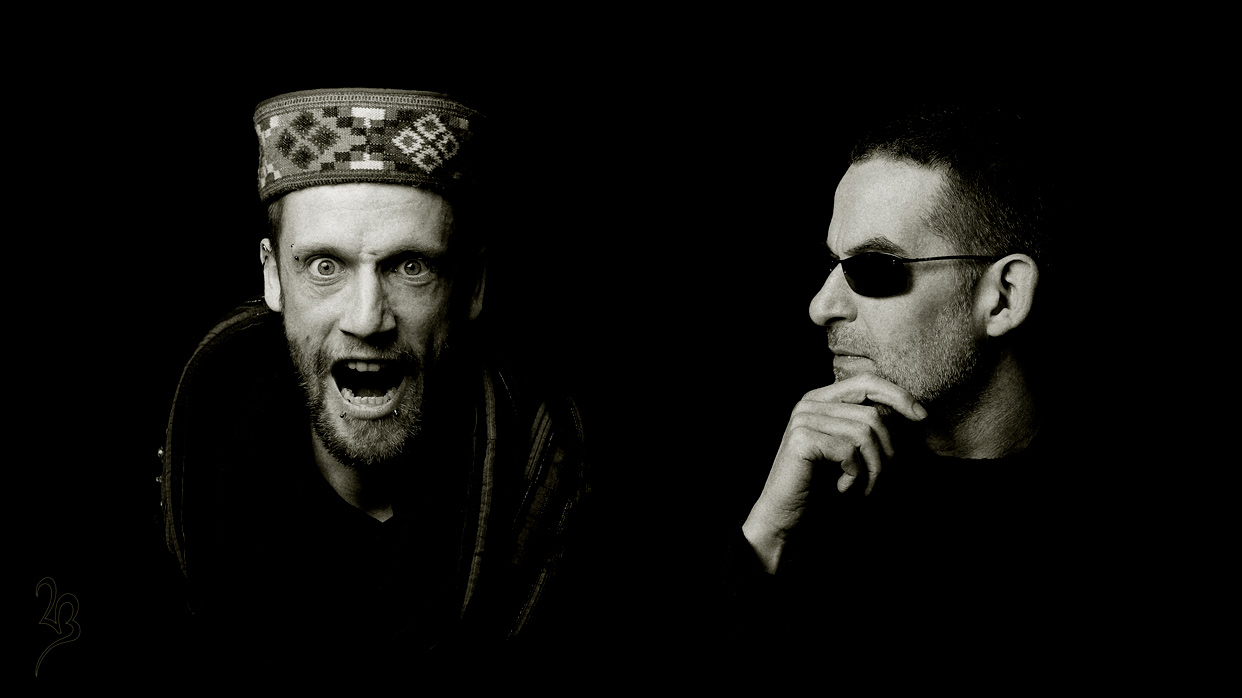 In the beginning was the dream. A dream made by Utelo, discovering the hit "Lost in Metropolis" on the back seat of a car after a wild night: the young singer, as fond of medieval culture as of electronic music, is taken away by the vocoder voice and heavy rhythm of Oil 10 (aka Gilles Rossire) mythic hymn that was played on stages from London to Wroclaw, seducing the demanding audience of dark electro galaxy. A first contact happens a bit unexpectedly many years later in the context of a steampunk objects trade, as the two artists appreciate this genre where futurism and retro technology melt tightly. Meanwhile Utelo has become the front-man of UB°K, a trio where Mongolian music meets medieval instruments. Gilles already noticed the particular and protean voice of Utelo thanks to social networks: a hoarse timbre and a mastery of diphonic singing he learnt on his own and enhanced with Central Asia masters. A live session will be enough to convince Rossire. Though his discography is mainly instrumental, the producer always fell for strongly typed voices, may it be pop or bel canto, and his ideal play-list is stuffed with songs. Has the time to launch the sung project he always dreamed of finally come? An idea that seduces Utelo right away. Now they have to draw the territory of a cooperation, a long-term and yet untold story.
The concordance will be found somewhere else, a place that haunts Utelo's dreams since about fifteen years. As an epic, mystical quest and everyday life description of the Mneluins, a mysterious tribe, many of his dreams tell the story of a particular universe. An ancestral world in deep communion with nature and completely unknown to him before he weaved a canvas of visions during his sleep, may they be gigantic or intimate. When the rough sounds of a language with its own syntax come to him without any known origin, Utelo understands that he became, even without asking for it, the messenger of a people and a culture he has everything to discover about. As for the reasons of this transmission, they are not the least of mysteries. With Bakibal, Utelo finally found a medium to share the traces of this obsessing world. Now is the time for the two men to share their specificities, and this happens more as brainstorming than jam sessions. As the project initiator, Rossire wants to draw from his own influences but he knows he will have to get away from habits folded by about three decades as solo composer and producer. More than just a step aside, he feels very quickly the necessity to explore an unknown territory. And now he will not be alone: the voice and universe of Utelo introduce the adventure of a new sound. How can he give life to the singer/writer visions without falling into the virtual soundtrack temptation? In order to keep his own creative process intact and free, Rossire proposes to remain ignorant of the text details. A bet that will lead them to unexpected places.
Cut out differences to bring together two worlds that would originally fight each other, this is the challenge the two creators decide to accept. Rossire's composition and production reveals itself following his different experiments, just like the Mneluin emergence lived by Utelo. Dozens of tracks rise, may they be crazy structures or simple loops, to disappear the next moment and get back to life here or there in a new shape. As months go by, elegant as epic tracks built by Rossire are given Utelo's vocals. Sometimes the synth wizard finds inspiration listening to the singer's vocal work and elaborates musical arrangement and harmonies based on it, or samples Utelo drums sessions. Sometimes the singer needs to be driven, as his education and influences gave him an inclination toward improvisation. On his side, Rossire must learn to integrate instant magic into his universe made of machines. Quite soon, a long and patient collaboration that sees hybrid composition as an evidence rises: clarinet, flute, strings arrangement, jew's-harp and a whole set of percussions find room into the electro chorus. Rossire's demanding harmonies and rich production are now talking with Utelo's dreamlike freedom. Better seen as a mosaic than a linear creation, Bakibal world blossoms in our reality at last, on the cutting sound of syllables that seem eager to rip out he supernatural veil that still surround them as a protection until a larger audience is able to hear it. Here, rare instruments give songs an organic pigmented texture. There, Bakibal superimpose sailor songs and epic take-off, dance floor rhythms and intimacy moments. And still, the prominent voice of Utelo melting rough strength and emotional charge delicately contained. Put together, this heady singing and eclectic atmosphere cut out any reducing comparison with Bakibal duo and give it a definitive peculiarity no one can contest.
[Erik Wietzel]
Dreamlike landscapes, fantasy ethnic band, organic sounds and drums, electronic support for pulse and melodic lines, throat singing. Bakibal has a name that blows in the wind, just as a loose fabric at a yurt entrance would do. Thick smoke, modern exile; this duet taking off is being stuffed with references for Gilles (from
Oil 10
) and Utelo (from UB°K), two passionate musicologists and musicians. Clouds open slightly on gigantic skies, just the time to foresee the incoming album with two tracks (« Lneganpsa », « O Giblan Abakibal ») and a cover of « Ulysses » from Dead Can Dance.
Obsküre: Where does this name, Bakibal, come from? Several references exist but I have the feeling it is a question of sounds before anything else, isn't it?
Gilles Rossire:
For me it is indeed a matter of sound as I did not want to know the precise signification of Utelo's texts. Bakibal is a word I like to say, a word that blows like a drum and is an invitation to travel.
Utelo:
On my side the sound was not the only aspect of it. Our songs are in Mneluin, a language that belongs to the world it talks about. Bakibal is the first word of this language that I heard clearly, its origin. When the question of the name of the project arose it was obvious for us two that we needed an easily distinguishable Mneluin word. Hence we had a stroke of luck: for different reasons the name Bakibal became for us the logical choice.
Obsküre: When did you meet?
U:
There was several meetings, in fact. The first, the virtual one, took place on Myspace. Needless to say it happened a long time ago! The Oil 10 fan I was wanted to test his luck by writing to the man behind the machine, and after that we kept this link through social networks. A few years later, we met in person during the selling of a bric-a-brac I wanted to separate from. Then came the artistic encounter; UB°K was getting concrete, I invited Gilles to one of our gigs and after that he proposed me to do some tests. If you need a date: it happened on October the 3rd, 2013!
G:
That's sharp! As for me I would add that I was intrigued by a video Utelo had recorded where he was singing on a movie of himself playing jaw's harp, to compose a track all by himself. Until then I could see only acoustic themes from him, inspired by medieval or ethnic music; now I was discovering someone who could tinker something to get a quirky but pertinent result, a bit funny too, well: a open mind that seduced me right away. The idea of collaboration took place in my mind at this moment. If I had seen his work only in a traditional gig context, it is unlikely I would have proposed this electronic adventure to Utelo.
Obsküre: You work like a duet and it is difficult to say if it follows Oil 10 (synthetic layers, modernity and darkness) or is an extension of UB°K (loud voice, grace of the percussions and great range of traditional instruments): is this a true symbiosis you live?
U:
If by symbiosis you mean that we are very different but walk our way together at our own pace, yes that is exactly the case! For me Bakibal is far more intimate than UB°K as it tells stories that follow me since years. It is a sort of inner journey, a mirrored perspective, when UB°K wants to embrace the outer world's horizon. In my concern there is no link between the two projects.
G:
Bakibal is not Oil 10's continuation simply because composing songs or instrumental tracks are two very different things, much more than I expected. I dreamt about a sung project far before Oil 10, but when the moment came I had to re-assess a certain amount of habits I had, and my way of composing itself. That was a part of the goal, so I am glad about it! But even so, I did not change my brains from one project to the other and there are some similarities between the two, it would be absurd to deny it. Our personal backgrounds are assets that help us to build this slightly crazy project. In fact, my feeling is that we are extraordinary lucky: our common tastes are a sturdy platform where we can meet but also take some footbridges to venture into each other very specific universe.
Obsküre: The creation of this project cannot go without using words to construct a consistent universe. How do you compose this contextual data?
U:
All the lyrics are related to Mneluins and the world they live in; each track is like the piece of an ethnological puzzle that gives us some insight of this world through their rites, their beliefs, their everyday life, all expressed in their own language. Most of the songs talk about their founding myth that put through the Kadou tree, their guardian spirit, and a young boy that acts as a medium between this spirit and the Mneluins. I am just writing what tell these stories as I perceive them.
G:
Utelo proposed me his dreamlike universe and the idea took me immediately. But I quickly decided not to know too much about it because I wanted to avoid slipping into the musical illustration of a text. We had to find a common place, consistent but mysterious too, a sort of ghost zone that would allow us to develop our creative thoughts to their maximum while taking each other by surprise. Go for the strict musical setting of a story would have been falling into a trap. Too easy, too narrow. I really wanted to stick to the dreamy context we started with, where everything can happen for us too.
Obsküre: Doing a Dead Can Dance cover as first shot implies opening many possibilities. What did this band mean for each of you?
G:
I really discovered and appreciated DCD when Within the Realm of a Dying Sun went out [NDLR: in 1987]. That was a huge shock, a surprise, the discovery of a universe, of a sound that seemed to combine for the first time all that I liked in pop/rock/electro music (to make it short). Amazing vocals, Perry's as Gerrard's, a gothic but never kitsch drama, a pretty rare magnitude in composition and overwhelming arrangements that do not hesitate to go up to the end of an inspiration without defect. Their path is full of explorations too, and of abundant attempts without never fearing to lose their identity. The choice of this cover happened a bit unexpectedly during a work session with Utelo and it was achieved fluently for him as for me. That is a perfect illustration of what brings us together.
U:
Dead Can Dance acted as a doorstep to music worlds (gothic, but not only) when I was a teenager, and I still remember my surprise when discovering the different atmospheres hold by the albums I could listen to at my brother's place at this moment; I was thinking « where does this band go to? », I was puzzled. And in the meantime, I could not reject this music that was fascinating me, that was making me listen to medieval tones even before I knew it existed. As for the voices... let it be clear, I have a fair inclination for high pitched women voices. Brendan Perry's voice did not hit me at that moment but I could appreciate it afterwards, and when Gilles proposed me this cover I was crazily enthusiastic!
Obsküre: When reading your intentions, we can but see that Bakibal will not grow as a traditional band. What kind of stages do you foresee? New encounters and sharing will very likely happen. Is the project feeding on these possible explorations?
U:
Bakibal evolves following its own pace and so do we, eyes wide open on its potential. It already evolved thanks to our creative meetings with Christopher Mark Perez, Julien Gueudry, Marc Delain and Erik Wietzel, and it will do again in the future, that's for granted! Regarding the stages, we are still looking for the best way to share our universe. We will not be the first electro-singing duet but beyond music we have a complete visual world to unfold.
G:
Yes, since the beginning Bakibal is not really a conventional project and we go on working according to our inspiration and desires... Now that the first album is done we wish to offer it a release corresponding to the level of our enthusiasm! Other works are in progress, some new meetings too... A fairly good year is coming. We are not in a hurry and, more than anything, we are free!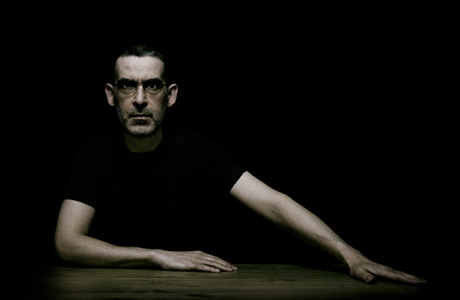 One-man band, self-taught and synth wizard, Gilles Rossire aka Oil10 is creating since two decades a particular discography where synthetizer reigns as king over a world of timeless tones. The long indus or ambient tracks with a touch of dancefloor that made him famous are nevertheless only a part of his musical route and education. Strong voices as unstoppable arias have always been his inclination. It is no coincidence that vocoder and synthetic vocals appeared in Oil10 as early as on the second album, and that he associates today with the singer Utelo to create Bakibal project.
As picture is his other passion, he has been composing original soundtracks as soon as he could. It was less a rivalry than a complementary expression of himself though: Rossire created visuals for all his albums and most of his videoclips. In fact, movie world has been his for long: he worked in special effects and modeled fantasy creatures, first echo of an intimate universe through which magic and darkness run and that we can explore today thanks to Bakibal. In 2018 he created his first animated film for the video "O Giblan Abakibal".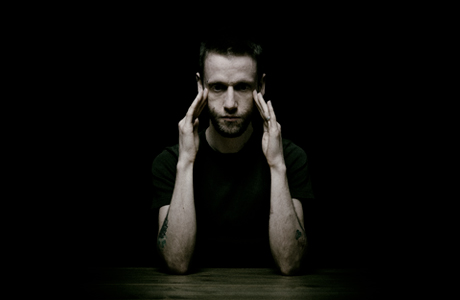 Utelo started to sing in 2008 thanks to a medieval music masterclass organized by the Association Rotruenge. It offered him a glimpse of the repertoire's richness and he chose to learn more an more about it, following classes at the Center of Medieval Music of Paris and at the Community Art Center of Ris-Orangis. He went to masterclass too, with K. Hoefener, F. Orozco, R. Zosso , H. Decarpignies and singed in ensembles such as Quarte & Graal. In 2010 he started to study khoomei (throat-singing), traditional singing art coming from Center of Asia. He worked on his own for two years, exploring tuvan and mongolian technics while experimenting as much as he could. Then he initiated the UB°K project with Bujee (Morin-khuur) and Khristowf (Organetto) where he sings and plays as percussionist. Since then he studied in masterclass with renown masters (Tserendavaa, Odsuru, Hosoo, Tran Quang Hai, Nikolay Oorzhak).
Gilles Rossire (aka Oil10) proposed Utelo to work on a common project after seeing him on stage with UB°K. There started Bakibal. The occasion for him to embody concepts that haunt him though singing of course, but also writing, artefacts crafting and tattoo.